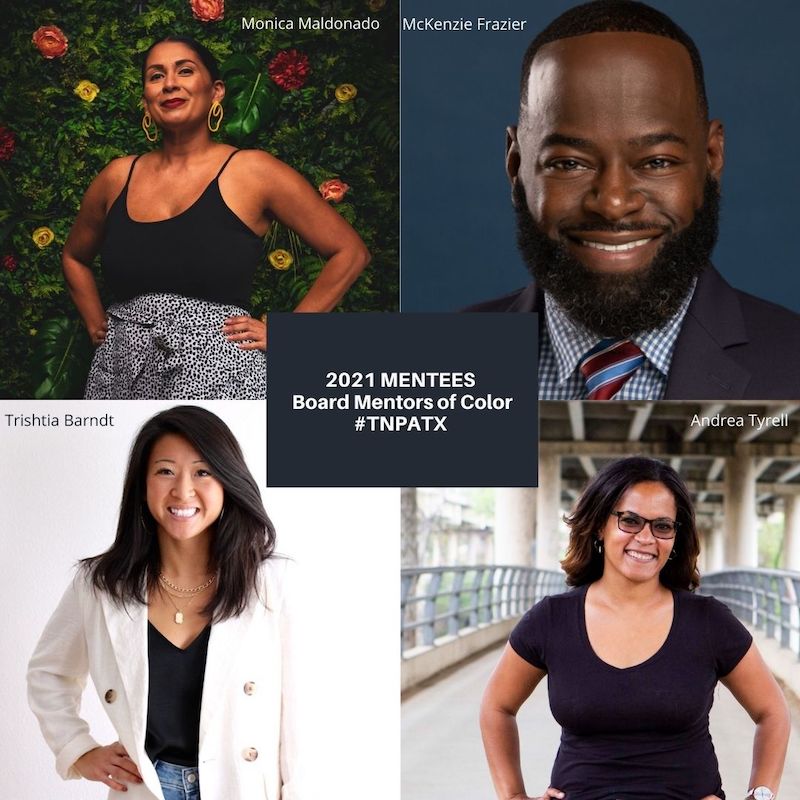 "I find purpose connecting with the non-profit community. I thrive in areas where I consciously connect with privileged leaders, disenfranchised community members and support our collective shift away from internalized systems of oppression. Raised an ARMY brat, I am a cultural chameleon & I aspire to infiltrate historic systems with mindfulness as my mission, and femme leadership values as my guide. I support our collective healing through empathy, strategic effort & creative problem solving." ~ Alicia Ortiz, 2021 Mentee
We're excited to welcome the newest co-hort of mentees to the 2021 Board Mentors of Color Program. The BMOC program was set up to support new and experienced board members of color by matching them with established community leaders as mentors and provides them opportunities to develop community leadership skills, build & deepen community relationships and gain support in navigating Austin nonprofit boards. The program also creates safe spaces for deep conversations to happen around race, and is fundamental in creating opportunity and access for leaders of color to take a seat at the table.
We look forward to some great conversations, making new connections and diving deep into what it takes to be Inclusive Leaders.
Congratulations again to our 2021 Mentees!
LaShawn Harrison – ABM Industries
Shaundrella Gandy – Logan Grant Foster Innovations DBA Sydney Harbor
Prachee Behera – Odisha Society of the Americas
Jay Watts – The Center for Empowered Sexual Wellness, LLC
Jeremiah Bush – BBVA Compass Bank
Kettisha Jones – Learning Bridge
Latisha Addison – Austin Community College District
Sandie Johnson – It's All About You Talent Services
Jamesha Chapple – Device42
McKenzie Frazier – Travis County Health District d/b/a Central Health
Rock Shum – Austin Asian American Film Festival
Monique Jones – Monique Capri LLC
Shebah Washington – Texas Higher Education Coordinating Board
Andrea Tyrell – The Trail Foundation
Quentin Cheeks – Facebook
Trishtia Barndt – Venture Consulting
Belen Iniguez – We Got This TX
Lauren Rangel – Children's Defense Fund Texas
Dorando Morrison – Apple
April Boyd – Texas Health Action
Yoselís Ramos – AGE of Central Texas
Shauntae McArthur-Rodriques – BKM Sowan Horan
DeMario Woods – Indeed
Rodolfo Jimenez – Trellis Company
WH Harris – Texas Health Action-Telekind
Kymberly Keeton – ART | library deco
Haksoon Andrea Low – State Bar of Texas
Rachel Winston – The University of Texas at Austin
Alicia Ortiz – Urban American Farmer
Lise Lucci – NAHREP Austin
Mayra Marquez – Deloitte Consulting LLP
Miriam Laeky – Texas House Democratic Caucus
John Espinosa – Greater Austin Hispanic Chamber of Commerce
Monica Maldonado – MAS Cultura
Sheri Marshall – Top Ladies of Distinction Capitol City Chapter
Christine Thomas – Dell Medical School
Nick Bailey – Austin Achieve High School
Byron Ceasar – Homebase & BC Consults
Adriana Basurto – East Austin Youth Foundation
Ryan West – Austin Black Pride
Mary Folse 
Tiffany Annette Hopkins – WellnessxTiffany Annette LLC.
Rodrigo Leal – Guidehouse
Summer McAfee – USAA
Jayshree Patel – Ripple Press LLC
Themmi Shimray – Creative Action
Jessica Moreno – Janes Due Process/Collective Capacity Consulting LLC.
Iman Cooper – Iman Cooper Consultancy
Tia Olarinde Healing Hands Community Doula Project